Expats jubilant at NTV grand festival in Australia
Programme held on 13 February 2016
The chairman and managing director of NTV Alhaj Mohammad Mosaddak Ali inaugurated colourful NTV Festival at Rockdale of Sydney in Australia at 6:00pm (local time) on Saturday.
This was the first time NTV arranged such a fiesta outside Bangladesh. The most jubilant among others were the third generation of Bangladeshis born in Australia. Each family participated at the fest was found excited and elated being a part of the grand celebration. Every member of the audience wore the NTV monogram on his or her bosom.
Alhaj Mohammad Mosaddak Ali, the chief guest at the function, in his speech said: 'It is all because of your endless love that NTV claimed the top position in the country. You, the people of the country (Bangladesh) are the owners of this TV channel. I have been, on behalf of you, running the channel as an unbiased one. We have been awarded the ISO certificate for maintaining a high-scale standard in broadcasting programmes as well as news. Everything was possible because of your unprecedented love for the channel. I'm extremely glad to attend the festival'.
Head of NTV Australia Rashed Srabon said: 'We have been endorsed by Australian government and other Bangladeshi communities for our works. In the coming future NTV Online will become the No. 1 news portal in Bangladesh.'
Thanking everyone involved with the festival he said, 'NTV is now not only for the Bangladeshis of the communities, but for everyone. It has become a mainstream TV channel.'
NTV Australia has been crediting people working in and for the community, and in Sidney media. Shah Jaman Titu has been awarded this time. He has been running assistance programmes with language, in the community, and among the refugees for a long time. Besides, he is working for enhancing the living standard of the Bangladeshis.
Bangladesh Press Club president in Australia Rezaul Haq, and Press Council convenor Badrul Alam handed the award over to Titu.
Among others from NTV, present on the occasion were Asiful Islam from Marketing and Media department, Shakil Ahmed from Corporate Affairs department, Saiful Islam, Parvez Majumder, Biva Sarker, Anjuman Anny, and Sumaiya Shuvo form NTV administration.
Raman Bibi Cathward launched at Ibrahim Cardiac Hospital
Programme held on 14 January 2016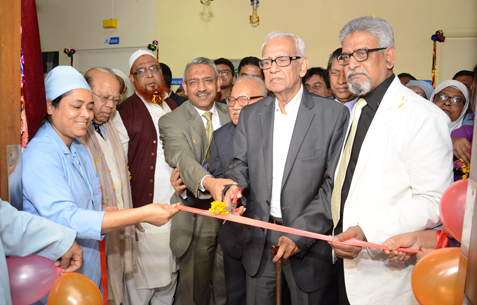 A Cathward, named after NTV chairman and managing director Alhaj Mohammad Mosaddek Ali's mother Raman Bibi, has recently been opened at the Ibrahim Cardiac Hospital and Research Institute.
Equipped with new and advanced features, Raman Bibi Cathward was inaugurated on 14 January at the hospital in Dhaka.
The chairman and managing director of International Television Channel, NTV gave financial assistance of Tk 1 crore for the construction of the ward.
The inauguration programme, presided over by Ibrahim Cardiac Board of Management chairman Mahmudur Rahman, was attended by NTV chairman and managing director Alhaj Mohammad Mosaddek Ali, Bangladesh Diabetics Association president A K Azad Khan, and general secretary Mohammad Saif Uddin.
Bangladesh Diabetics Association vice-president Barrister Rafiqul Haque was present as the chief guest in the inaugural ceremony. General manager of the hospital Mashekur Rahman anchored the inauguration programme, while Ibrahim Cardiac Hospital and Research Institute chief executive officer MA Rashid delivered the welcome speech.
Haa-Show: Hridoy crowned champion
Programme held on 09 January 2016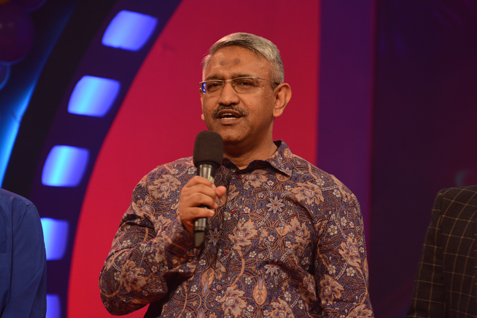 Hridoy Al Miru emerged as the champion of the popular comedy show Haa-Show season-3 which was aired in International Television Channel Limited (NTV).
Ashiqullah and Abdullah Al Noman became joint first runners-up while Sabikunnahar Munna the second runner-up.
NTV Chairman and Managing Director Alhaj Mohammad Mosaddak Ali and Marcel Executive Director Humayun Kabir distributed the prizes among the winners after the Grand Finale on Saturday.
'I am very happy being the champion. I am lucky. Please pray for me so that I can come up with good works in future. I want to be a good anchor,' said champion Hridoy.
This is the third time NTV organised the reality show. Actor Saju Khadem anchored the show while anchor Mazharul Islam, actor Ejajul Islam and actress Badhon were the judges.
ATCO President, ATCO members meet commerce and information ministers
Programme held on 09 December 2015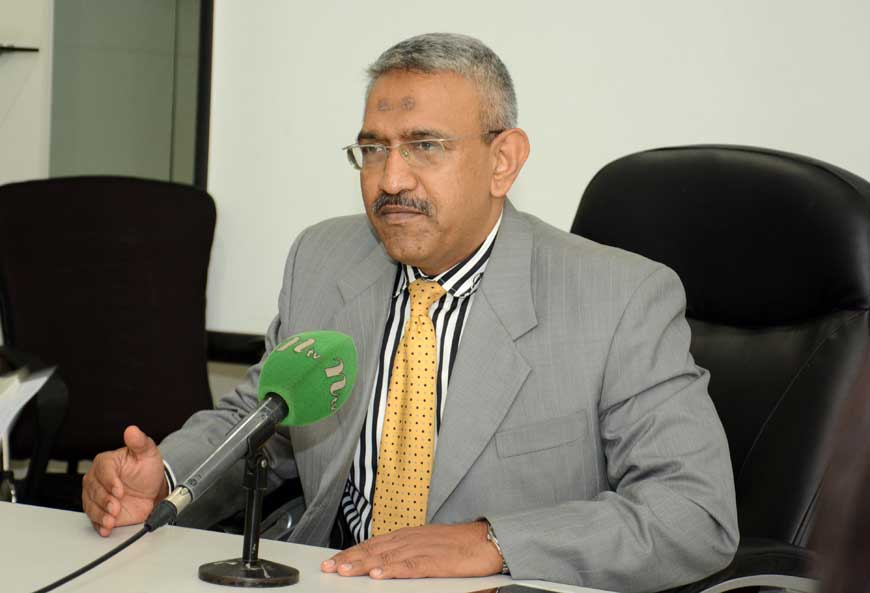 On 9 December, Association of Television Channel Owners (ATCO) president Mohammad Mosaddak Ali and other members of ATCO attended a meeting with the Commerce Minister Tofail Ahmed, and Information Minister Hasanul Haque Inu at the ministry conference room in Dhaka.
ATCO's important issues were discussed in the meeting. The president of ATCO, Alhaj Mohammad Mosaddak Ali thanked the ministers and all ATCO members for attending the meeting.
ATCO president also thanked the government as it gave assurance of meeting the demands of ATCO.
Objective news first, NTV chairman tells correspondents conference.
Programme held on 06 November 2015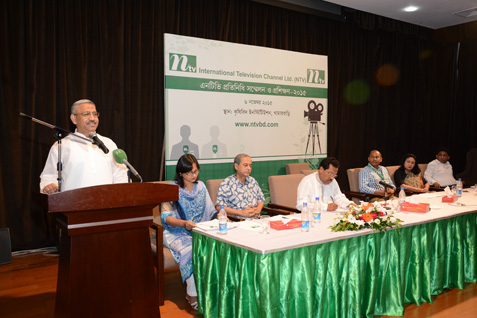 Viewers and readers should get objective news within shortest possible time, International Television Channel Ltd. (NTV) chairman and managing director Alhaj Mohammad Mosaddak Ali told reporters and district correspondents in a meeting on Friday.
NTV reporters and district correspondents, who are credited with relentlessly producing objective news and take those to readers and viewers, joined a council and daylong workshop at Krishibid Institution in Dhaka. Alhaj Mohammad Mosaddak Ali inaugurated the training programme.
Mosaddak Ali welcomed the role of NTV correspondents in ensuring release of Fazlu Mia from Sylhet jail and catching the prime accused of Rajan murder from Saudi Arabia. He reiterated NTV promise to uphold humanity and dedication to the nation.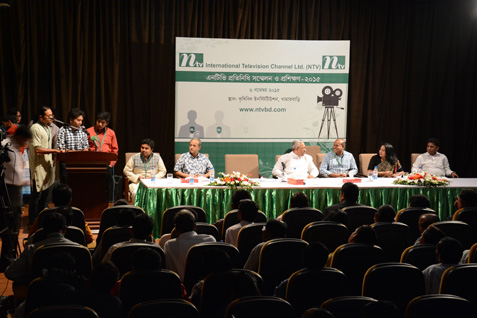 He said, 'every district correspondent should produce reports in such a way as to it will become a topic across the country for discussion. People will say that NTV is performing for the nation! We have duty to our country. NTV must serve the news fast, but that will be authentic and unbiased. It must be ensured before broadcasting any news.'
NTV Chairman Alhaj Mohammad Mosaddak Ali awards three journalists.
Programme held on 31 October 2015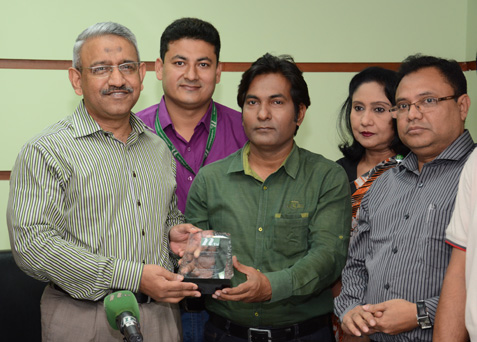 International Television Channel Limited (NTV) awarded its three journalists for working with courage and commitment to society.
NTV chairman and managing director Alhaj Mohammad Mosaddak Ali conferred the awards to senior correspondent Shafiq Shahin, cameraperson Farid Ahmed Bhuiyan and its Jeddah, Saudi Arabia correspondent Masud Selim at a programme in the NTV's Dhaka office on Saturday.
Shafiq Shahin and Farid Ahmed Bhuiyan received award for the courageous report on Fazlu Miah, who had been released from Sylhet Central Jail after languishing 23 years in jail for no offence. Jeddah correspondent Masud Selim was awarded for his cooperation to hand over Sylhet teenage boy Rajon murder prime accused Kamrul Hasan to law enforcement agencies in Jeddah.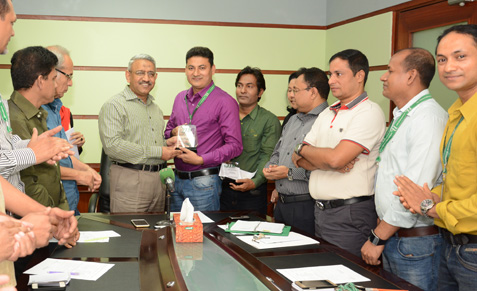 Mossadak Ali said, 'NTV stands by the powerless and oppressed people as a commitment to the society. It's not an easy task to find out and publish the investigative report what Shafiq Shahin, along with the cameraperson, has done.'
The NTV chairman and managing director expressed profound gratitude to the jail authority and the government for their cooperation.
Super Chef coming soon again on NTV
Programme held on 04 October 2015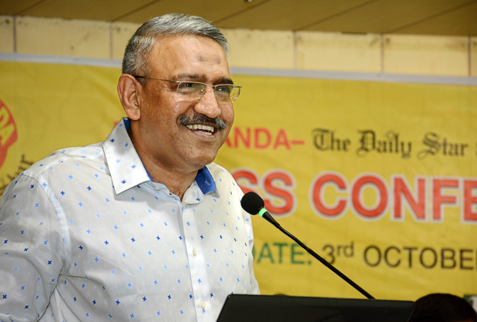 Cooking is not limited in home now. It is now considered an art. For that reason, reality shows on cooking are organised worldwide. Even Bangladesh does not lag behind in arranging such reality shows. The third edition of Rupchanda-The Daily Star Super Chef will kick off soon on NTV.
The announcement came at a press conference at the Daily Star Auditorium in Dhaka on Saturday. The Daily Star Editor Mahfuz Anam, ATCO President Alhaj Mohammad Mosaddak Ali, also NTV Chairman and Managing Director, Bangladesh Edible Oil Limited (BEOL) General Manager Inam Ahmed and Sales and Marketing Head Shoeb Md Asaduzzaman were present at the press conference.
Mosaddak Ali said, 'We will be able to introduce our country in international cooking competitions if we work together. Our chefs showed their talent in the earlier editions of this show.' He also said that the number of competitors in this show is increasing in every season. The winners of the 13 regional rounds will compete in the final event. This time, changes have been brought in the selection process and cooking procedure. Shoeb Mohammad Asaduzzaman, head of sales and marketing of BEOL, said, 'Cooking is still at the domestic level in our country. We want to take it to a status of art. Those who cook in home give a lot of effort and we want to recognise that.'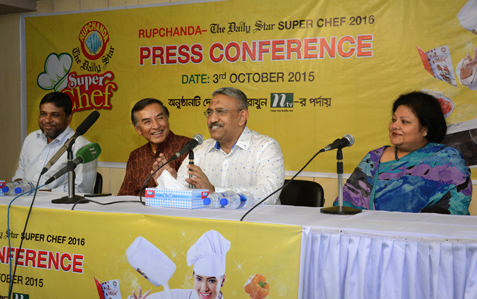 'Those, who will be Super Chefs, I think, will be able to choose a profession going outside the traditional ones,' he added. This time, foreign judges, alongside the local ones, will judge the competitors. Also, Super Chef winners around the world will be present. The Champion of the 2016 edition will bag Tk 10 lakh, the first Runner-up Tk 5 lakh, and the second Runner-up Tk 2 lakh. Participants have to register for the competition by dialling at 06912777888.
Alhaj Mohammad Mossadak Ali signs MoU with Ibrahim Cardiac Hospital
Programme held on 24 August 2015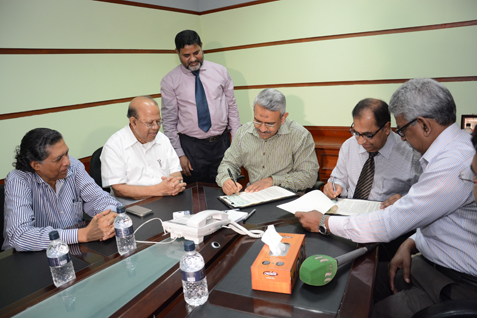 International Television Channel Limited (NTV) chairman and managing director Alhaj Mohammad Mosaddak Ali signed a Momerandum of Understanding (MoU) on a Tk 1 crore donation with Professor Dr. MA Rashid of Ibrahim Cardiac Hospital & Research Institute at the conference room of NTV on 24 August 2015.
Diabetic Association of Bangladesh president Professor AK Azad Khan, Diabetic Association of Bangladesh secretary general Mohammad Sayef Uddin, General Manager (HR & Admin) Md. Mashequr Rahman Khan; Lt.Col (Retd.) Dr. Hamidur Rahman, HoD. Cardiac Anaesthesiology and other head of departments were present during the signing ceremony.
Alhaj Nuruddin Ahmed, Aklima Bilkis, Rahima Khatun were present in the ceremony on behalf of NTV family. After signing the MoU, a cheque amounting Tk 1 crore was handed over to Ibrahim Cardiac Hospital & Research Institute.
The donated amount will be utilized for the development of health care facilities & patient care of Ibrahim Cardiac Hospital & Research Institute. The contribution will also use to provide more quality services to the privileged patients.
Tapash becomes Momtaz Mehedi Ronge Rangate winner
Programme held on 17 July 2015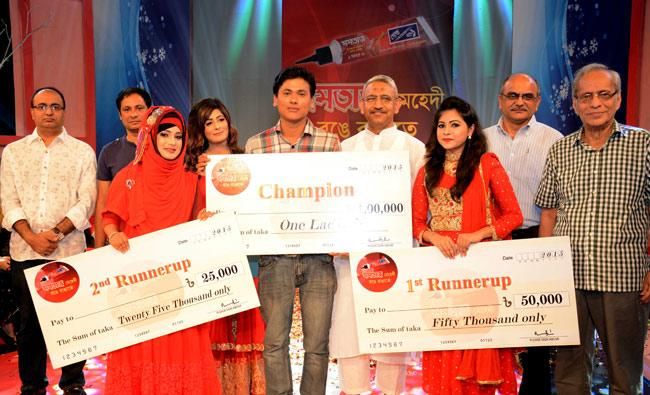 The grand finale of reality show Momtaz Mehedi Ronge Rangate was held on 17 July 2015. Among the 15 participants, Tapash Chandra Roy from Rangpur was announced the winner of the show. Lita from Chittagong division, and Rangpur's Tehmi Ibtita became second and third respectively.
NTV chairman and managing director Alhaj Mohammad Mosaddak Ali, and Momtaz Herbal Products managing director Madad Ali Virani were present at the finale. Among others present were Momtaz Herbal Products general manager Abdus Sattar, NTV head of programme Mostafa Kamal Syed, its head of sales and marketing Ranjan Kumar Dutta, and general manager (NTV programme) Khorshed Alam.
The winner received taka one lakh, while the second and third place winners bagged Tk 50,000, and Tk 25,000 respectively. Besides, 12 participants received Tk 12,000 each along with certificates on behalf of NTV and Momtaz.
The reality show began on 31 May with participants from across the country. Five thousand henna artistes participated in the show. Among them, 50 contestants were selected through four audition rounds. Later best 15 artistes were selected for the finale. The select contestants applied henna artworks on the hands of 15 models. Judges picked three winners from these 15 participants.
Veteran singer Ferdous Ara, ace artist Hashem Khan, and Farnaz were judges at the show.
PHP Quraner-alo grand finale 2015
Programme held on 15 July 2015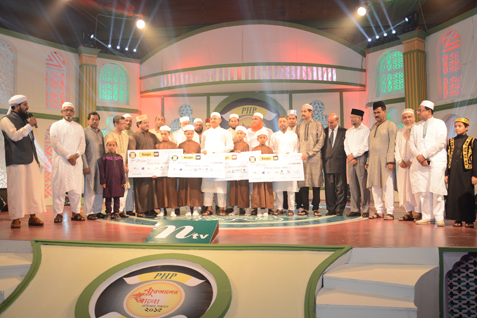 Hafiz Zobayer Ahmed has won this year's 'PHP Quraner Alo', the biggest television-based Quran memorisation competition of the country.
In the competition, Hafiz Hamidul Islam, Shahidul Islam Misbah and Abdur Rahman have secured the second, third and fourth position respectively.
The grand finale of the competition was held on Wednesday at the capital's Hotel Sonargaon. NTV aired the programme live.
The winners were handed down their prizes by NTV chairman and managing director Mohammad Mosaddak Ali and PHP executive director Mohammod Mahfuzur Rahman Bhuiyan.
'PHP Quaner Alo' winner will receive Tk 3 lakh as prize money and have the opportunity to perform Omrah along with his teacher, who coached him in memorising the Holy Quran.
The second and third placers will get Tk 2 lakh and Tk 1 lakh respectively, while the fourth winner will receive Tk 50,000 as prize. Besides, visually impaired contestant Hafiz Kalim Siddique has been nominated for special award.
About 30, 000 little contestants from home and several countries of the Middle East participated in the competition that continued throughout the month of Ramdan.
NTV steps into 13
Programme held on 03 July 2015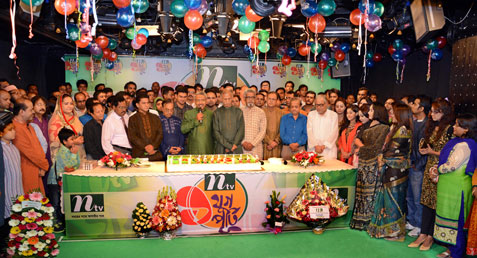 International Television Channel Limited (NTV) stepped into the thirteenth year on 3 July 2015. To mark the anniversary, the popular satellite television channel held a three-day programme and NTV office was colorfully decorated.
NTV chairman and managing director Alhaj Mohammad Mosaddak Ali cut a celebration cake at the channel office in Dhaka alongside distinguished persons of the country and the members of NTV family. The celebration commenced by cutting a cake which was shown live at 12:01am on Friday.
As part of its celebrations, the popular channel aired special programmes. A galaxy of personalities representing a wide spectrum of citizens attended a gala function, making the celebration a remarkable event.
Well-wishers from media, political, advertisers and cultural sectors greeted NTV chairman and managing director Alhaj Mohammad Mosaddak Ali with flower bouquets and cakes.
The well-wishers present during the anniversary celebration said NTV achieved the reliance of people with their objective news and entertainment programmes.
NTV started its historic journey in the domain of media with a commitment to highlight problems and prospects of the society on 3 July 2003.
NTV Online opened
Programme held on 01 February 2015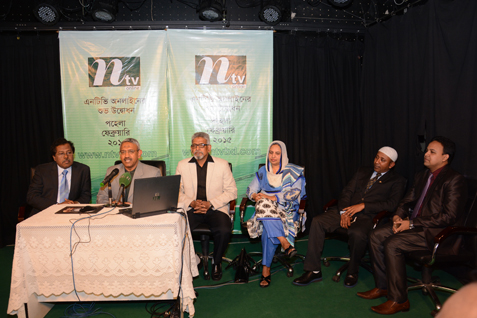 Online news portal NTV Online was opened through a programme in Dhaka on Sunday. News, views, photographs and videos are available on the website www.ntvbd.com
NTV chairman and managing director Mohammad Mosaddek Ali inaugurated the news portal in a programme at BSEC Building in Dhaka at about 4:15pm on Sunday.
In the inaugural speech, Mosaddek Ali paid his tribute to the Language Movement and Liberation War martyrs and activists. He said the news portal was opened on the first day of the month that is historically related to the Language Movement.
He expressed his hope that NTV Online once will become popular among most of the views and readers just like NTV gained earlier.
NTV deputy managing director Mohammad Yunus said Bangalies in home and abroad will be benifited through the launch of NTV Online.
NTV directors Nuruddin Ahmed, Md Shahidul Haq, Md Ashfaq Uddin Ahmed and Aklima Bilkis, among others, were also present at the programme. News, Talk Shows, Dramas, Musical programmes, Reality Shows and Fashion programmes that are shown in the television will be available on NTV Online. Views from across the world now can watch NTV through the NTV Online. The news portal can be accessed through personal computers, note books, net books, tablets and even smart phones. The website has display banner, video advertising and reach media options for advertisements of local and foreign advertisers.
Alhaj Mosaddek Ali visits NTV Online office
Programme held on 28 January 2015
International Television Channel Ltd (NTV) chairman and managing director Alhaj Mohammad Mosaddek Ali visited the NTV Online workstation on Wednesday.
He visited the offices located on the fourth floor of BSEC Bhaban in the capital's Karwan Bazar at about 12:00 noon. He was accompanied by NTV Human Resources and Administration chief Engineer Sultana A Banu.
While visiting different departments, Alhaj Mosaddek Ali exchanged greetings with the online officials and journalists. He inquired if the employees are facing any trouble at their workplace. The workforces informed him of the overall work procedures of the NTV Online.
Mosaddak Ali launches NTV Australia office
Programme held on 3 January 2015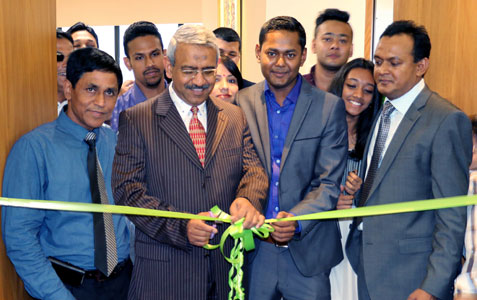 International Television Channel Limited (NTV) Chairman and Managing Director Al-haj Mohammad Mosaddak Ali inaugurated NTV Australia officein Sydney on 3 January 2015.
Having started its journey in Europe, North America and Middle East, popular Bangladeshi satellite channel NTV opened its wings in Australia and New Zealand considering the interest of audiences.
NTV Cultural Night 2015 was celebrated with colourful and dazzling performances on the occasion ofits launching ceremony at Rockdale Townhall in Sydney on Saturday evening.
The splendour and extravagant cultural night started with recitation from the Qur'an and also performing the national anthem of Bangladesh and Australia.
Chief guest Mosaddak Ali said NTV is a trusted media house. As a member of this popular media house, he is very proud and happy to join the guests.
UAE NTV
Programme held on July 09
Dubai witnessed a dazzling evening on July 09, 2011 marking the 8th anniversary of NTV. Brief discussion, reception and cultural programs marked the occasion. Among others, participation of Close-Up One stars enthralled hundreds of audience in the heart of UAE and made the evening a memorable one. Our Dubai Correspondent Shibley Al Sadik informs you the remnants of the evening.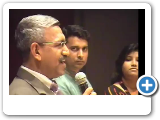 Flash Lightbox by VideoLightBox.com v1.11m
It was a gathering of expatriate Bangladeshis in Dubai to celebrate 8th founding anniversary of NTV. The programme started with recitation of national anthem and hoisting of national flag. President of NTV UAE Audience Forum Mahatabur Rahman presided over the programme although the real surprise was the august presence of NTV Chairman and its Managing Director, which was for the first time in any NTV anniversary event on foreign soil.
At the outset, expatriate Bangladeshis were awarded for their outstanding achievements in their respective areas. In his speech, NTV Chairman Alhaj Md. Mosaddek Ali said, NTV is your channel and credit goes to you for taking NTV at the summit of popularity.
NTV Managing Director Enayetur Rahman said, Our sincere efforts will continue to take NTV to the highest of standard in and outside the Middle East in future.
NTV Director Lutfor Rahman Badal and Consul General of Bangladesh Embassy in Dubai Md. Abu Jafar Chowdhury graced the programme as Special Guests. They said that NTV would continue to move forward with all its uniqueness and relentless development efforts.
Later, Close-Up and film stars from Bangladesh and expatriate artistes produced a sizzling and colorful performance to enthrall all audience and make Dubai evening a memorable one. Hundreds of expatriate Bangladeshis enjoyed scintillating show.
Dammam NTV
Programme held on July 15
After cultural evenings in Riyadh and Dubai marking eighth anniversary of NTV, a colourful programme was arranged in Dammam of Saudi Arabia on July 15, 2011. NTV Viewers Forum organised the event, where a number of organizations felicitated NTV Chairman on the channels successful step into the ninth year. Our Saudi Arab Correspondent Faruk Ahmed Chan reports:

The programme kicked off when Chief Guest of the evening NTV Chairman Alhaj Md. Mosaddek Ali sliced through the anniversary cake. After cake-cutting, representatives of different organizations congratulated NTV Chairman on the auspicious moment with flowers. The chairman was also given a souvenir gift by the Dammam Central Viewers' Forum.
Marking the joyous moment, NTV Chairman assured the viewers of producing future NTV programmes keeping the interests of non-resident Bangladeshis in mind.
President of NTV Viewers Forum Dammam central province and distinguished business personality MA Kashem Khan presided over the programme, where Professor AKM Rafiqul Islam, veteran politician Kamal Ahmed Chowdhury, Dr. Gaziur Rahman and Rafiqul Islam Sumon were present as special guests. Anchored by Talukder Saimon, the event was addressed, among others, by Sheikh Abdul Mannan, Jasim Uddin, Sohel Ahmed, Shafi Uddin, M Kamal and local leaders of the Forum.
Leaders of NTV Viewers Forum from different cities of Dammam including Al Hasa, Kartik, Khobar and Jubail joined the programme. Attended the programme, among others, were NTV Chairmans entourage and the Daily Arab News Representative Iqbal Hossain and the Saudi Arab Correspondents of NTV.
Riyadh NTV
Programme held on July 14
To celebrate the beginning of NTVs 9th year of glorious journey, a lively and extravagant cultural programme was organized on July 14, 2011 in Riyadh, the capital city of Saudi Arabia. Thousands of Bangladeshis living on foreign soil took part in that gala evening of cultural events and lively discussions. Our Saudi Arab correspondent Faruk Ahmed Chan reports: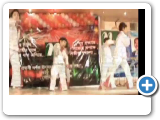 Flash Lightbox by VideoLightBox.com v1.11m

The vivid Riyadh cultural show was arranged in celebration of NTVs eighth anniversary and the launching of the channel's ninth year in operation. The programme was opened with the cake-cutting moments of joy. Representatives of different political, social and cultural organizations congratulated NTV Chairman with souvenir items and flowers.
Chief Guest of the programme, NTV Chairman Alhaj Md. Mosaddek Ali was also felicitated by expatriates, specially on behalf of Bangladeshis from the districts of Chandpur and Comilla.
Then came NTV Saudi Arab Correspondent Faruk Ahmed Chan and NTV Expatriate Cultural Forum leader Rima Rubaiyat Chowdhury to congratulate the NTV Chairman.
Members of the Cultural Forum produced some glittering performances to provide amusement for the audience through dancing, singing and fashion-show. Songs by Ilma, Bipasha and Jahangir among others enthralled the audience. Programme Producer Kakon Bokul directed the event.
AKM Rafiqul Islam, Kazi Selim Reza, Jamal Ahmed Chowdhury, Shahidullah Bhuiyan, Jeddah NTV Viewers Forum President Abdur Rahman, Madina NTV Viewers Forum President Faruk Ahmed Momtaz and other leaders of NTV Viewers' Forum from different provinces of Saudi Arabia attended the event.
The programme was organized under the banners of NTV Cultural Forum and NTV Viewers Forum. Addressing the gala evening, NTV Chairman Alhaj Mosaddek Ali said, NTV broadcasts program considering the interests of its viewers. Hence, NTV is only accountable to the country and the nation – not to any party or to any vested group, he said.